Regulations for Electric scooters
While electric scooters are now allowed on the road in the countries around us, new regulations are still being worked on in the Netherlands. We rightly get a lot of questions about this. It is good to know that there is a distinction between scooters with a throttle and scooters with pedal assistance. A scooter with a throttle must be inspected by the RDW. A scooter with pedal assistance is subject to bicycle legislation.


Scooter with pedal assistance

For a scooter with pedal assistance, it applies that it is propelled with muscle strength, with the help of an auxiliary motor.
There are no specific rules for E-scooters with electric scooter support, such as for (electric) scooters. The innovative sensor technology switches on the electric scooter support of the E-scooter - just like with E-bikes - as soon as you pedal yourself. The E-step accelerates only when you scoot along. In the Netherlands, the scooter with electric assistance is seen as an E-bike. The traffic rules for cyclists apply to these E-scooters. These scooters are - just like the E-bike - not a 'motor vehicle' and therefore a helmet, driving license, minimum age, license plate, or liability insurance are not required. The E-scooter with electric scooter support is only allowed in the Netherlands on public roads if the motor power is limited to 0.25 kW, the same maximum power as E-bikes.
More info can be found on this page:
https://www.rijksoverheid.nl/onderwerpen/voertuigen-op-de-weg/e-step-met-trapondersteuning
We have noticed that there is still confusion at the RDW and the police about this. We had direct contact with the ministry about this in November 2018. To determine whether a scooter with pedal assistance falls into the category "bicycle with pedal assistance", it must be determined whether it can be considered a "bicycle" without assistance. The term "bicycle" is currently not defined in Dutch traffic legislation.
Kenmerk: IENW/BSK/330728
Reactie ministry 27 nov 2018:
"However we are of the opinion that a two wheeled vehicle, which is propelled by your own muscle power and that clearly belongs to the cycle path, should fall in the category of bicylce. (...) Due to the nature of support these scooters fall under the category of bicycle with pedal assistence and do not have to be seperately admitted as a special moped. You are allowed to travel up to 25 km/h on public roads."
DE MINISTER VAN INFRASTRUCTUUR EN WATERSTAAT,
Namens deze,
Hoofd afdeling Verkeersveiligheid en Wegvervoer
drs. M.N.E.J.G. Philippens
The eMicro, Micro Falcon NL, Micro Condor NL and Micro Colibri NL are our scooters with pedal assistance and are legal on public roads in the Netherlands. They can be recognized by this silver sticker: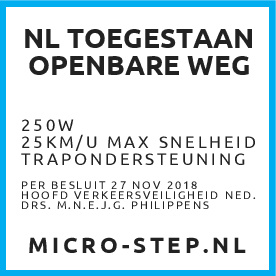 Scooter with throttle
At the moment no compact folding scooter with throttle is allowed on the Dutch road. The Netherlands is in a transition phase to new regulations. Its implementation is continuously being advanced. Within the new rules, such as those that have now been proposed, it will be very difficult to get an electric scooter with throttle allowed on Dutch public roads. There are a number of practical requirements that are difficult to implement, such as 4 EU approved signaling blinkers - something that is virtually impossible on a scooter due to its design. The Dutch requirements go much further than any other country in Europe.
In the countries around us, electric scooters are allowed. We expressly consider it more promising to be in line with the requirements already developed in Germany, but also in France and various other European countries, than a new and lonely initiative by the Netherlands aimed at Regulation 168/2013. We fear that this Dutch initiative will lead to a long-term process with a questionable outcome of the efforts to achieve European harmonization.
We have already received feedback from Brussels that other European member states do not want to join the initiative of the Netherlands to make the light LEVs (such as the E-step) part of Regulation 168/2013. In Germany, a package of requirements was already chosen in April 2019 that largely corresponds to the new European standard for PLEVs (PLEV - EN17128). This standard was developed by an international task force of CEN between 2013 and 2019. Micro was also part of this initiative. The PLEV standard is based on the product safety risks of the current Special Mopeds.
The Micro Merlin and Micro Explorer are electric scooters with throttle.