Which Micro scooter is suitable for my child?
A number of things are important when choosing a scooter. First of all, the age of your child. We have made a division into age categories below. For children up to and including 12 years old, the 3-wheel scooters are the most popular, the Mini and Maxi Micro. The first 'Kickboard' was designed by Micro for adults in 1999. Children love the surf feeling you get from using your weight to steer the scooter. They provide a lot of stability and a high degree of fun. We also have a large selection of two-wheel scooters. These need no further introduction: Micro is the inventor of the compact folding scooter. We will briefly explain the different models below.
Scooter advice for a toddler 1+ years
The Mini Micro scooter is designed to develop balance, coordination and motor skills. With the addition of a seat, these toddler scooters can be used from 1 year to 6 years. This way the scooter grows with your child. There are a few options:
TIP: Do you want a Mini Micro 3in1 Deluxe Push in a different colour? Then buy the Mini Deluxe in the desired color and a 3in1 push set.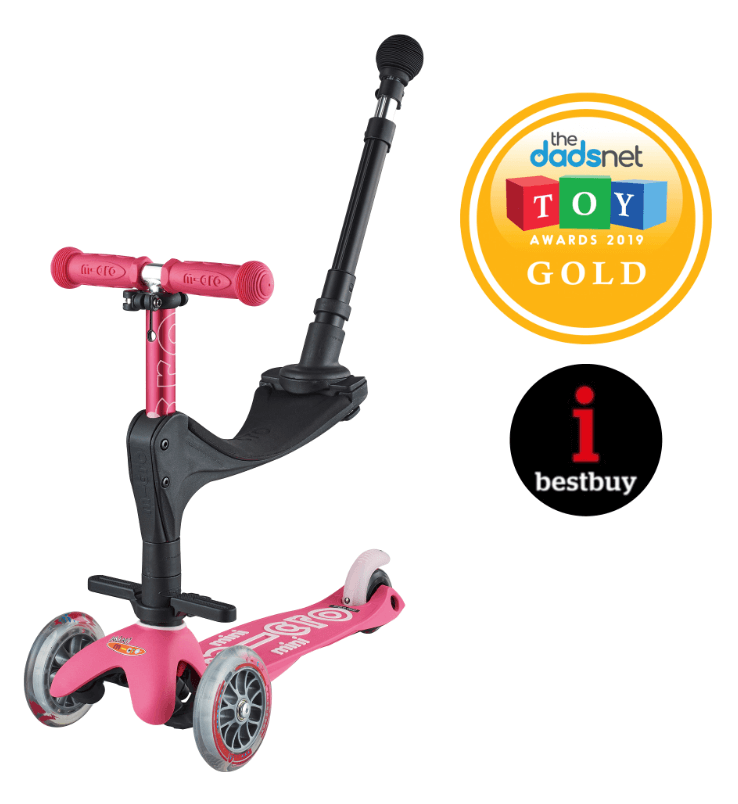 Scooter advice for a child 2+ years
The Mini Micro scooter is the world's favorite children's 3 wheeled scooter and is suitable for children from 2 to 6 years old.
It is available in a Classic and a Deluxe version.
Classic or Deluxe?
The main difference is that the bar of the Deluxe is adjustable in height. The Classic has a fixed T-bar in the highest position and is therefore suitable for children from 3 years. In addition, the Deluxe has a deck with silicone letters for extra grip, anodised steering column and reflectors by the rear wheel.
Mini Micro scooter Deluxe: height adjustable handlebar (handles ideally at tummy button height), silicone grip letters on the deck. The best choice for a child of 2 or 3 years. We have even seen a number of children scooting from 18 months! Steering column clicks out in 2 seconds (with 2 hands). Also available with LED lights. Tested to 50kg. Suitable from 2-6 years.
Mini Micro Eco: Same as the Mini Deluxe with a deck and brake made from 100% recycled plastic.
Mini Micro foldable: Same as the Mini Deluxe with a foldable steering column (with one hand).
Mini Micro Classic: The economical option with fixed bar (same height as the maximum height of the Deluxe) and without the silicone letters on the deck. Suitable for 3-6 years.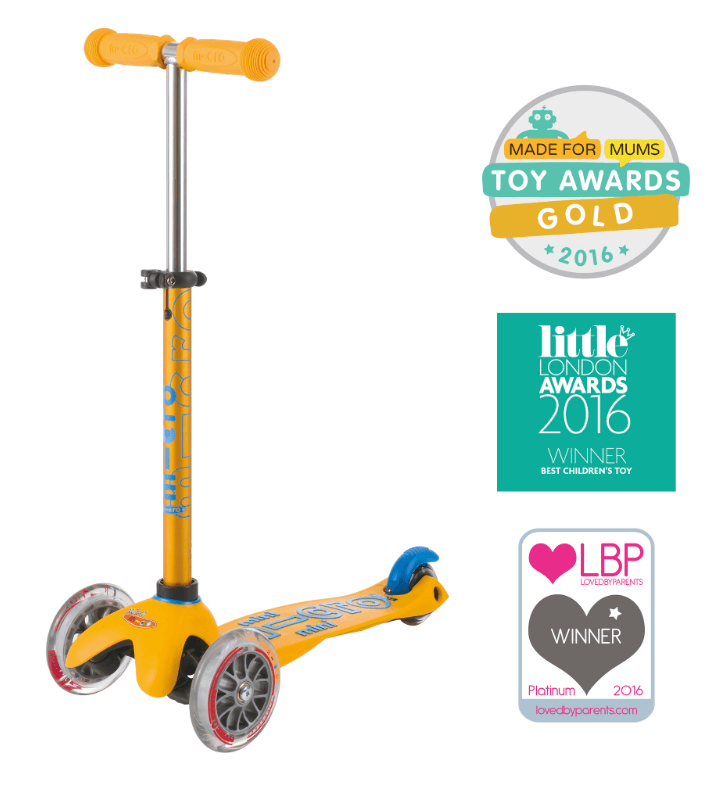 Mijn kind is 4 years old, Mini or Maxi Micro?
From a minimum weight of 18kg and height of 110cm, is a child big enough to steer the Maxi (weight is most important. In genearl a child will prefer a lighter scooter, because it is easier for them to handle. In addition, as you steer with your weight the Mini is easier to steer - which means they will use it more often and make longer journeys on it. The handlebars of the Mini Micro are as high in the highest position as the handlebars of the Maxi Micro in the lowest position. 
TIP: Will there be a younger brother or sister following? Then choose the Mini Micro, so you can enjoy this durable scooter even longer.
Step advice for a child 5+ years
The Maxi Micro is by far the most popular scooter for children aged 5-12 years. Children love the surf feeling and the scooters are very comfortable on brick pavements due to their flexible plastic deck. If your child has a strong preference for a 2-wheel scooter we have many options to choose from. If not, we highly recommend the Maxi.
3 wheels:
Maxi Micro Deluxe: Our first choice for a child aged 5-12 years is always the 3 wheeled Maxi Micro scooter. This is by far the most popular kids scooter for this age group. It comes in many colours and versions, but they all have the same strong base which is tested up to 70kg. The bar of the Maxi is anodised to prevent scratches and clicks loose in 2 seconds: easy for an adult to do (but not for a child). The scooter is easy to store and to take with you on a trip, in the car or bicycle bag. Also available with LED wheels. Suitable from 5-12 years.

Maxi Micro Eco: Same as Maxi Deluxe with a deck made from 100% recycled plastic.

Maxi Micro Pro: With fat wheels and wider handlebars. The lowest level of the handlebars is higher than the normal Maxi, therefore we recommend it from 6 years.
Maxi Micro foldable:The foldable Maxi is useful if your child needs to be able to fold it at school every day.
Maxi Micro Classic: Same as the Maxi Deluxe without the silicone letters for extra grip and the anodised steering column.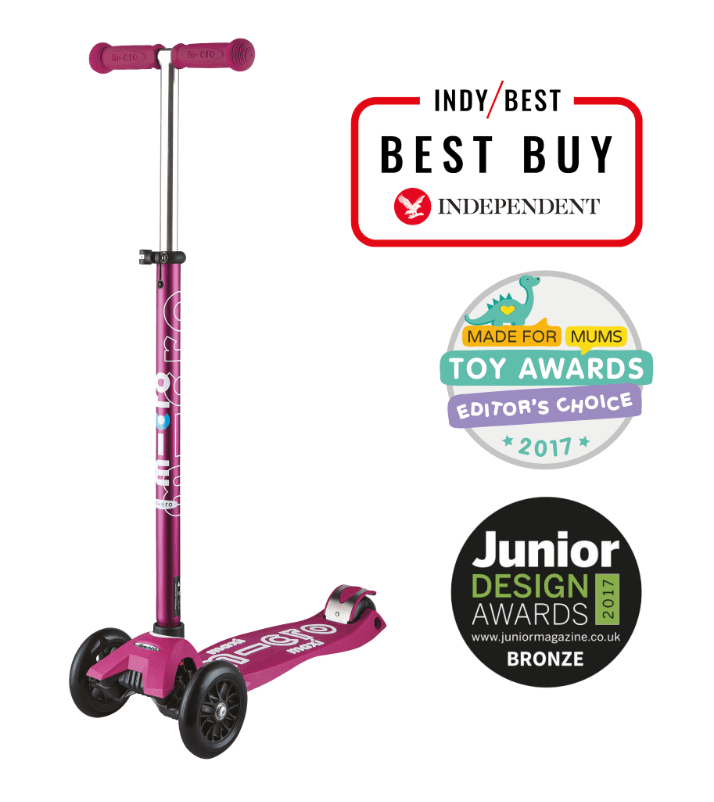 2 wheel foldable scooters:
Our two-wheel scooters need little introduction. Micro is the inventor of the compact folding scooter as we know it today. It is important if the scooter will be used as a means of transport or to stunt. A stunt scooter has to meet other requirements. We will discuss these further down this page.
Micro Sprite: Very good all-rounder in many designs and a scooter that will last for years. Lightweight, collapsible and easy to carry. Tested to 100kg. 5+ years.
Micro Sprite Deluxe: Same basis as the Sprite with wide handlebars and built in LED headlight.
Micro Cruiser: Large 200mm wheels and is specially designed for children who want a scooter with big wheels. Due to its length, weight and wider handlebar, less handy and compact than the Sprite, but more comfortable. 5-10 years.
Micro Speed+: Features slightly larger shock-absorbing wheels and is therefore more comfortable, but also heavier than the Sprite. This scooter looks very cool. 10+ years.
Micro Rocket: Stands out because of its wider wheels. Handy for rougher terrain, but it also has a little more rolling resistance, so you have to push harder to build up speed. 10+ years.

2 wheel stunt scooters:
If your child spends a lot of time at the skate park, a stunt scooter will be the best option. Stunt scooters are made as stiff as possible, so not foldable, with a fixed handlebar height and of course also without suspension - less comfortable on the street and less convenient to take with you on a trip. But with a stunt scooter your child can perform all kinds of tricks and jumps.
MX Trixx: High quality scooter with extra strong metalcore wheels, a compression system and Pegs. Suitable for 5-12 years
Micro Ramp: Solid entry-level model with metalcore wheels. Slightly simpler in design, but also larger and wider than the Trixx. Pegs not available. Suitable for 8-14 years.
Micro Crossneck: Top quality stunt scooter with high level technology. Wide handlebars in professional size, pegs included. Suitable from 10+ years.
Need more advice?
You can call us on 020 320 6409 or visit our showroom at Binnen Brouwersstraat 36. We are located in the heart of Amsterdam, a 5-minute walk from Amsterdam Central. Please call in advance to make an appointment.